⭐️ Featured
Joanna Jędrzejczyk vs Karolina Kowalkiewicz – The Polish Battle
Joanna Jędrzejczyk and Karolina Kowalkiewicz have a history. The two have fought once before, when they were competing as amateurs. Joanna came out on top in that fight, which was way back in 2012. Both fighters have improved since than, but it remains to be seen who is the best now.
Joanna has been dominant in almost all of her fights. She enters this fight as a heavy favorite, and good reason. Her striking is as crisp as anyone's. As a former pupil of Ernesto Hoost, she has one of the most technically sound striking repertoires in the game today. Her main weapon is the jab, on which the rest of her game is based on. Using it to set up openings, she lands vicious combinations of punches and kicks. Her control of distance is excellent – she is always just in range to strike and to counter, which she will happily do against a pressure fighter.
Both of those characteristics, combined with an enormous gas tank mean that she pushes a pace rivaled only by a few. She is always in range to strike and with her economy of motion, no excess energy is wasted. To complement her striking game she has developed a good defensive wrestling base. If needed, she can use takedowns of her own.
The only fight in which she hasn't looked dominant was against Claudia Gadelha.
https://www.youtube.com/watch?v=ItX7zfCUeLA
It was a fight where she showed that she can deal with a pressure striker and wrestler due to her cardio advantage. If Karolina can implement a similar gameplan, she can win a decision, but it will be a hard fought one.
Karolina's style is based on her high output – she often clock in 25-30 strikes a minute. While each one of them may not have significant power on their own, they do add up. She is also an excellent clinch fighter, with knees and elbows that do carry power – even in the open space.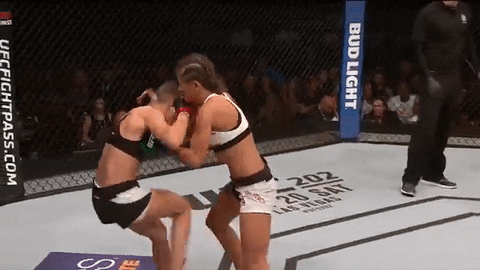 When you are leaning on somebody against the fence, your legs are firmly planted under you and you can generate power easily. Being pressed into the fence takes that away, which is why head under your opponent's head while clinching him against the fence in one of the safest and most powerful positions in MMA. For example, Jon Jones uses it very well to box up his opponents from that position, as does Nate Diaz.
Karolina may be subsceptible to being countered by Joanna. When she enters with her combinations she rarely moves her head well – a receipt for disaster against a competent counter striker. Joanna certainly is one.
One of the pieces of the fight game is the will to fight. It's not a tangible as having a good right hand or a double leg, but it is real and trainable. However, fighters can lose it for a variety of reasons. Joanna has made comments that she won't be fighting for much longer as she wants to start a family. While it may not mean anything, it is one of those reasons other fighters have had to lose the drive to take punches for a living.
Despite that, we know that she will be coming into her fight at UFC 205 as prepared as ever. So will Karolina, hoping to get revenge for the loss she got from her. On paper, this is Joanna's fight to lose – she has all the tools to win a decision or possibly crack Karolina with a counter as she comes in. For Karolina to win, she will have to fight a grueling fight along the fence in the clinch. Standing in the middle of the Octagon with one of the best strikers in the UFC could prove a serious mistake. However, we've been surprised before.
Still, my final prediction will be Joanna Champion by decision.
How do you think the fight will go down? Let me know in the comments below.
Follow us for more daily UFC 205 fight coverage, including betting guides, fight analysis, news and much more.